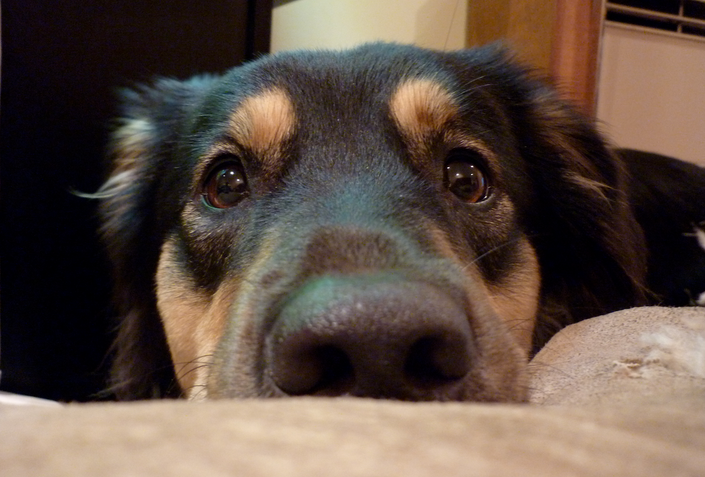 From Growly Dog to Confident Dog
Become the confident handler your dog needs you to be!
This program has been completely updated and expanded!

It's now available at
https://brilliantfamilydog.mykajabi.com/from-growly-dog-to-confident-dog-1
with its amazing private Community and an App to take it everywhere with you
Hop over there and see just what you get!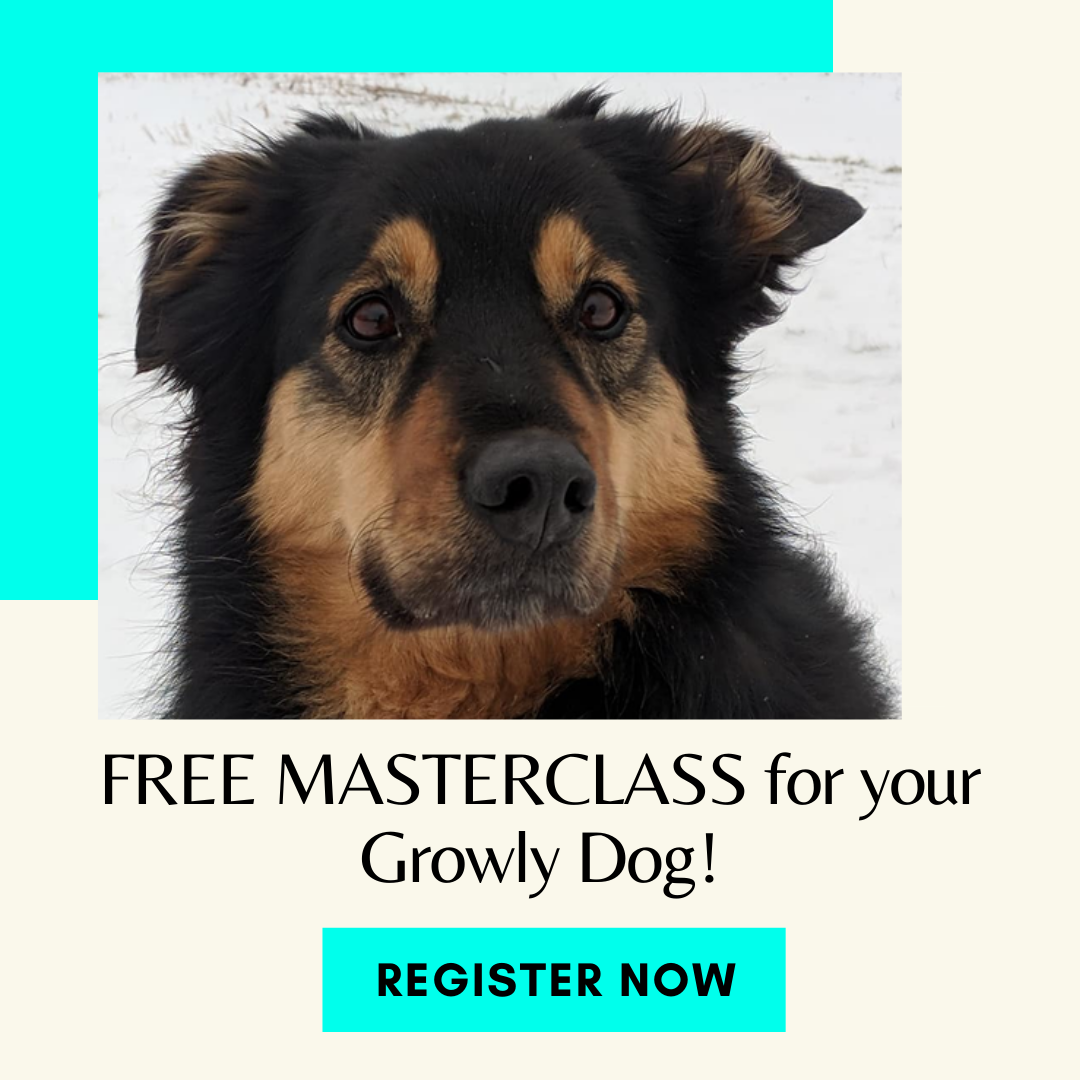 Meanwhile, watch
our free Masterclass
Do you dread walking your dog?
I know. You're fed up with making excuses for your dog. You love your dog, but you're always worrying about what others think, feeling you must be the world's worst dog-owner. You'd love to be able to go for a walk with friends, have visitors to the house, pass a cyclist or a child - without your dog having a meltdown.
You think of your hopes when you first got your dog … and feel that those hopes are dashed and either you have a bad dog or it must somehow be your fault he's like this.
You feel guilty. You think it must be your fault and you must be the world's worst dog-owner. And you wonder why spending time with your beloved dog has to be so hard?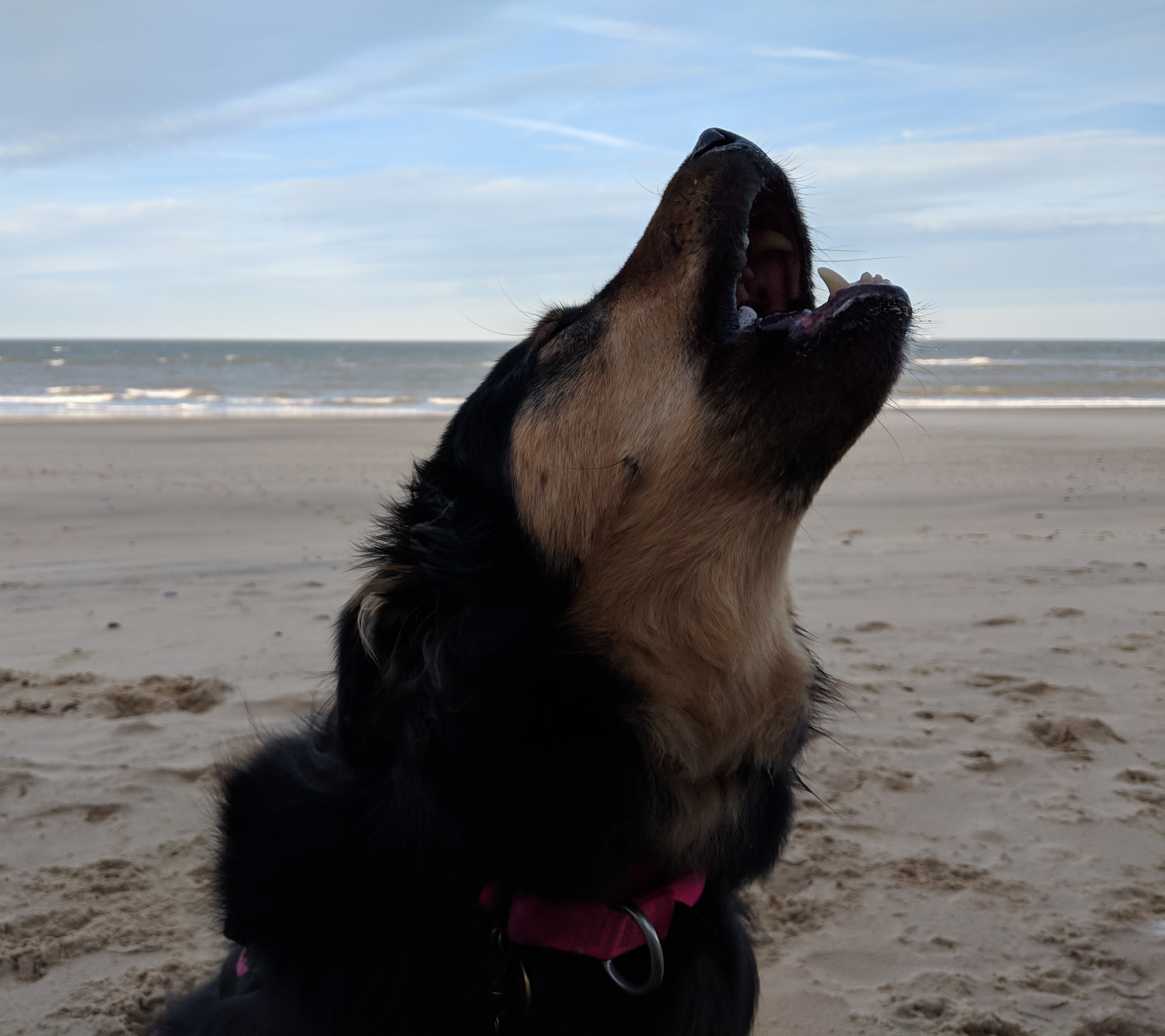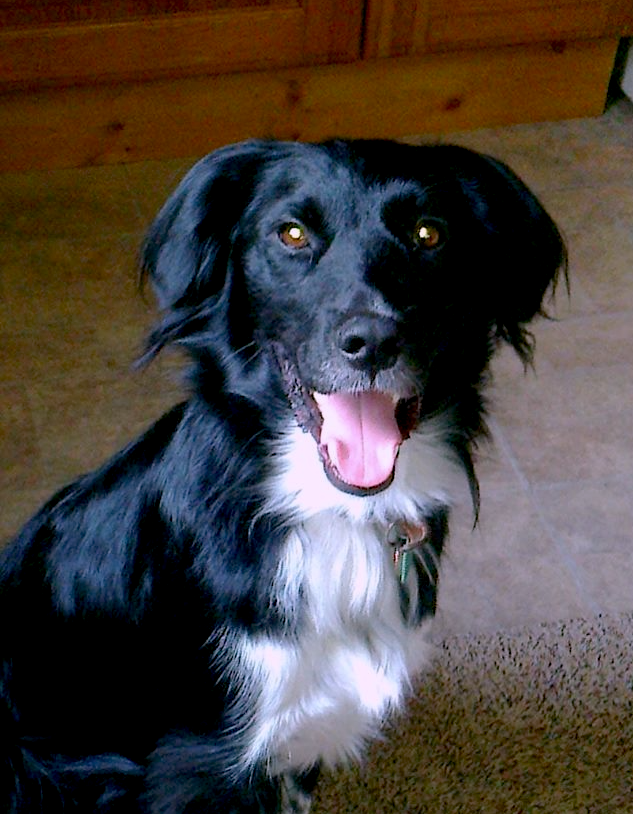 "When I first started this course I was in despair. Walks were no pleasure and had become such a problem that I literally used to dread taking Max out knowing that he would lunge and bark as soon as he saw another dog. He also did the same with sirens, mopeds and motorbikes! I had no idea what the problem was - I hadn't a clue about 'reactivity'.
My confidence was at rock bottom as I didn't know how to deal with him or where to turn for help. I couldn't join a local class as the trainer wouldn't accept him because of his reactivity to other dogs.
I scoured the internet and bought several books in an attempt to help Max and ...
READ MORE
make life easier for both of us. I came across Beverley who seemed to have the answer to my problem. I realised that From Growly Dog to Confident Dog was just what I was looking for to achieve calmer walks with my dog. My only concern before I enrolled was how the BAT sessions would work as I'd previously done a little bit of BAT, but I see now that they work very well - the effort is well worth the result of seeing your dog make progress.
It's been a long journey but I'm sure we're in the right place now!
I like everything about the course. The way it's set out in small bite-sized steps - I felt that when I first had Max that I needed to know everything about reactivity all at once! But this course allows you to read it all through first so you know where you're going with it and what you're aiming for, and then you can go back and work through it at your own pace.
It's so uplifting to be able to talk to and gain support from others through the private Facebook group. Although I'm not a 'Facebooker' as such, I've found it invaluable to be able to post and to follow others who are in the same boat as me. The support out there is amazing - you can feel quite isolated having a reactive dog.
Three things that I've learnt that have made all the difference would be the muzzle training - so good and it works! the Lead Skills and all the games for impulse control - Max loves them (and so do I!)
I would certainly recommend this course to anyone with a growly dog. It has all you need to know in one place and you can take it at your own pace. The resources are excellent.
It has made such a difference to us - Max has made such good progress and my confidence has grown so that I no longer dread taking him out for walks because I now know what to do."
Liz and Max, Collie x Spaniel
If you carry on as you are now ...
your dog's challenging behaviour could become entrenched. You could lose faith in your dog. You could even be involved in huge expense if something goes really wrong and there's an incident causing vets' fees, or lawyers get involved.
But it doesn't have to be like this! We can change all of this! It just needs for you to commit to change, to do the work with me, and your dog will change all on his own!
Do you want to be in the same place this time next year? Still struggling with little hope, no support, plummeting confidence? Or do you want to get going now on this new adventure with your dog?
The time has come for you to make a change!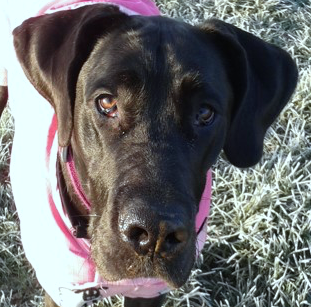 "Thank you to Beverley for giving me my confidence back and helping me to see that I'm not the useless dog owner I was sure I must have become!


Clare and Elsie
Yes - in just a few weeks you could be enjoying a new life with your Growly Dog!



End frustrating and shaming dog walks!

Start enjoying the pleasure of exploring the world with your dog without worrying what others think!

Rest your poor aching shoulders!

Work entirely with force-free methods - no blame or punishment - learn through games with your dog!

Make new friends who understand exactly what you are going through!

Enjoy your dog!
You don't have to have a degree in dog behaviour to be able to change your dog - you only need to understand then put into action a few key skills in order to get dramatic and rewarding results. This course gives you those skills and techniques, step-by-step. I want to show you how to know what to do when - and some of this will surprise you!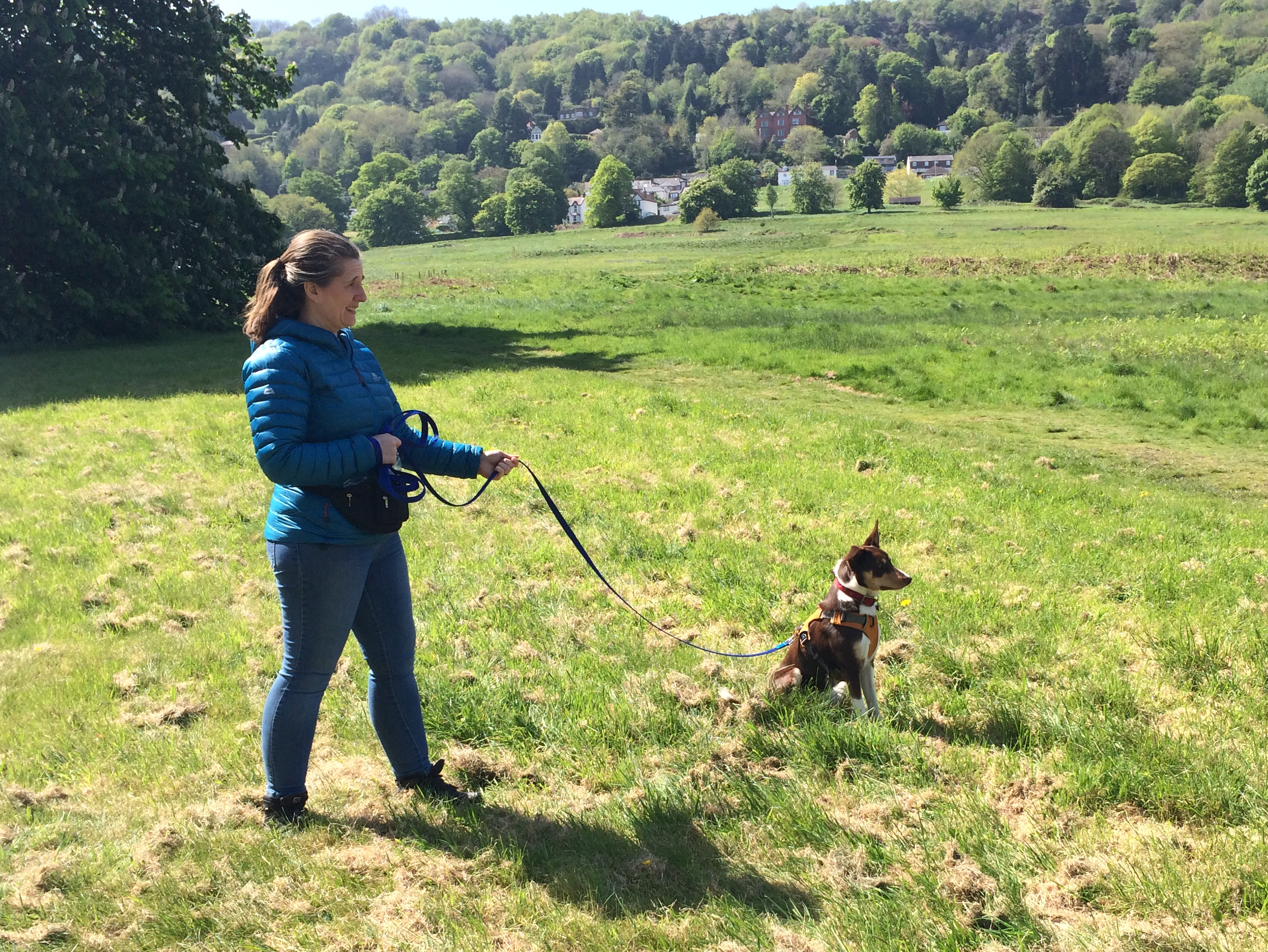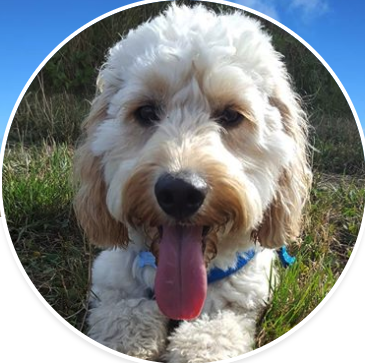 "Beverley, I want to say thank you! We have returned from a wonderful week's holiday with Milo in Pembrokeshire. We are all sooooooo relaxed, we walked miles of coastal paths and beaches, enjoyed quite a few tea and cake stops and saw many dogs, seagulls, sheep ..... Milo has not growled once all week.
Did I handle every situation perfectly? no way, but did I feel confident?
Yes! We felt like a team together.
I am quite sure I left some people thinking I was antisocial as I turned from their approaches and moved off chatting to my dog but we remained in a very happy relaxed state.
I had many compliments regarding my lovely dog as we calmly walked on a loose lead. Six months ago our holiday to a similar location was stressful. We are still learning, that will never stop but what a long way we have travelled.
We have come such a long way and at the root of it is me finding confidence, you have given me a tool kit so now Milo can trust in me.

THANK YOU!"
Adele and Milo, Cocker spaniel x Poodle
Can this really work for me with *my* dog?
All I can say is that I've never met a dog who couldn't learn.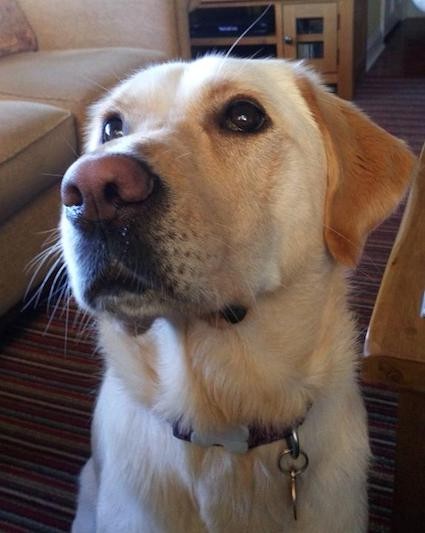 You won't have to spend hours trawling the internet and trekking miles to classes in order to help your Growly Dog learn to cope with our world. And remember that 1-1 help is not cheap! While behaviourists can charge £1000 ($1300+) for a single session, a weekend at a seminar (with travel, food, hotels, boarding) could set you back well over £500.
I'm giving you a shortcut through all the mumbo jumbo to what actually works.
I've done all the legwork for you and I'm giving you a proven system - all force-free - which will build your dog's confidence so that he can see another dog, say "Ah well," and move on without getting upset.
Hard to imagine?
See what these students found after working with me ...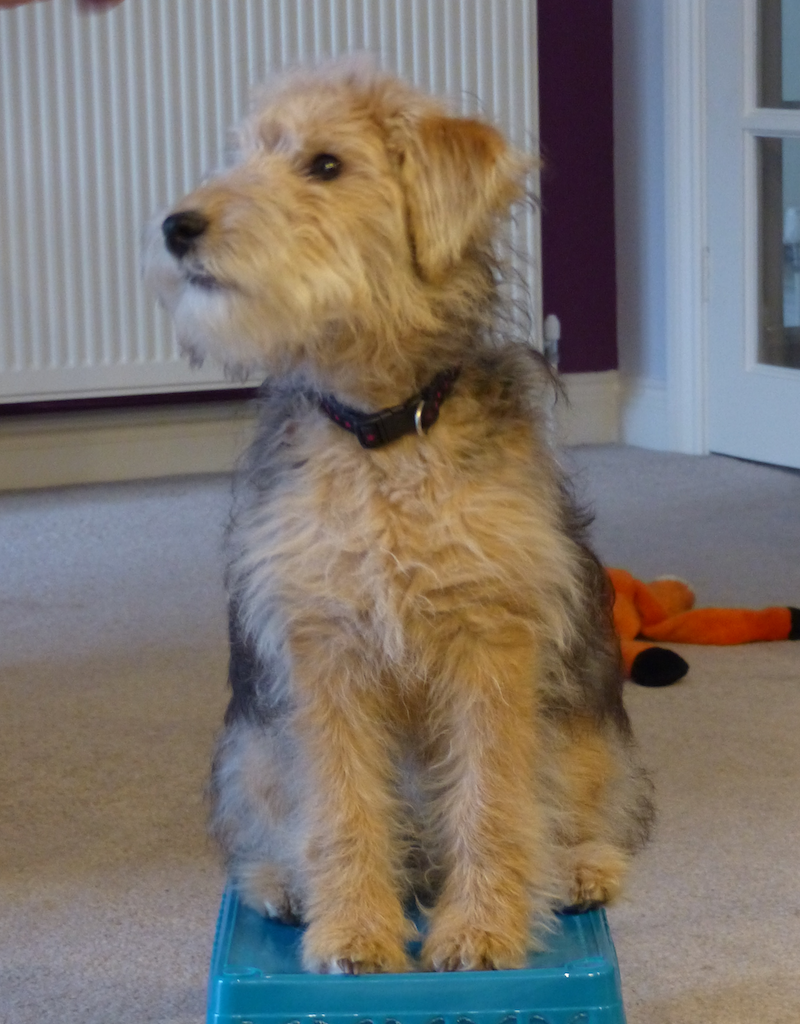 "If you have a reactive or growly dog this is the course for you! Beverley will take you by the hand (or paw) and lead you every step of the way. It's so easy to put into practice and gets real results quickly.
Before starting the course Rosie was a nightmare to walk, she reacted to traffic and every unexpected noise. Although she has never been aggressive with other dogs she would lie down as soon as she saw one.
Things have improved so much since starting the course: she now walks beautifully ...
READ MORE
on a loose lead and although she is still spooked by unexpected loud noises she is improving all the time. Also, knowing that she never has to meet another dog again unless she chooses to has made life so much happier for her.
She still has issues and extreme reactions to lots of household noises but I am confident that with the skills we are both learning from the course that we will get there in the end. At last we can see the dog she will be.
You never feel you are the only person struggling with a hyper and sometimes challenging dog."
Lesley and Rosie, Terrier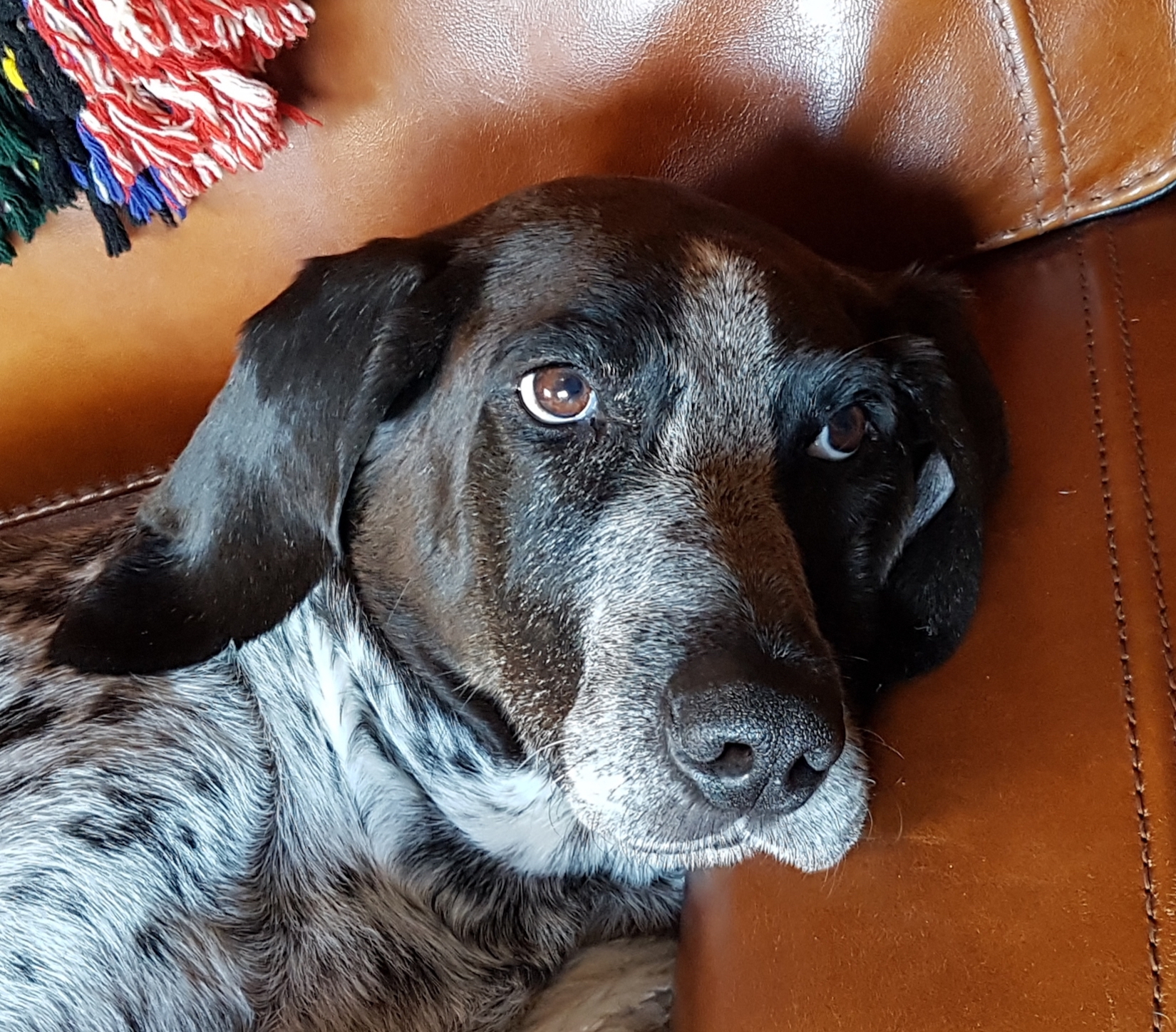 "My name is Anya, and our dog is called Zoe. We live in the French Pyrenees. Zoe is an 8 year old German Pointer whom we rescued 3 years ago from a shelter. She lived with hunters who maltreated her, and she spent her life in a concrete hut, except for periodic hunting outings.
When we brought her home ...
READ MORE
I had visions of lovely walks with her, never worrying about anything (that had been my experience with my previous dog), a harmonious life at home with our 2 cats, etc etc. We soon realized that things weren't quite like that! Zoe went off independently on our walks, turning up back home an hour or two later, she was terrified of the cats who were equally terrified of her, and she disliked and was reactive to other dogs.
All of this set me on a journey to help her, and help us, and it continues to be a fascinating journey too, where I am constantly learning better ways to be with her.
I found Beverley's books after Zoe had been with us about a year or so, and I immediately loved their clarity and user-friendliness. I was also so impressed, and grateful, that Beverley actually answered my emails when I had a question!
From there, I joined a couple of her online courses, including the Growly Dog course, and I have found them really excellent. Again, very clear and easy to follow.
And the private Facebook groups are also fabulous to be part of – such a wonderful community of like-minded doggy folk, and Beverley is always there too to answer our questions, and help with our problems. A really supportive community, worth its weight in gold.
Zoe is so much better in every way – much calmer, gaining confidence, more trusting of life.
I would encourage you to join the course – you will definitely not regret it! Thank you Beverley, for being there, and for all you do."
Anya and Zoe, German Pointer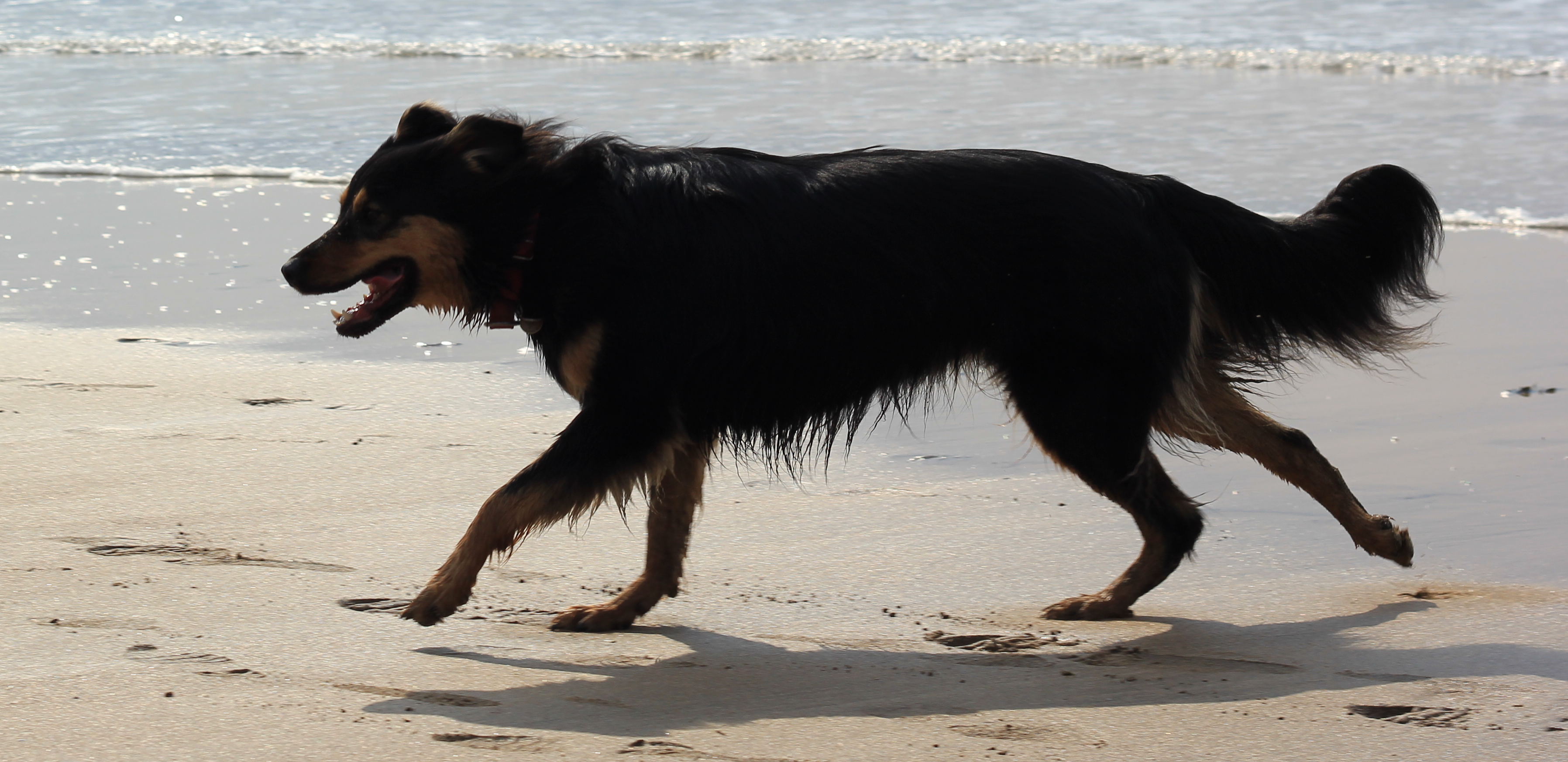 Your Instructor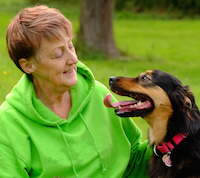 I've been training dogs for many years. First for competitive dog sports and over time to be stellar family pets. I found that a force-free approach was by far the most successful, effective, and rewarding for me, my dogs, and my students. It's a fascinating subject and I am continually studying and learning.

Almost ten years of teaching thousands of students in my Puppy and New Dog classes have taught me so much about how the critters learn and develop!

Having to learn how to make life acceptable for my own Growly Dog gave me the tools - and the empathy - to work with hundreds of students who have come to me in despair at their much-loved dog's "aggressive" behaviour.
My style of teaching has been influenced by my students. These dog-owners are not looking for competition-standard training; what they want is a Brilliant Family Dog they can take anywhere. Working with real dogs and their real owners keeps me humble - and resourceful! You could be brilliant at training dogs, but it's no use if you can't convey this enthusiasm and knowledge to the person the dog has to live with. So I'm grateful for everything my students have taught me about how they learn best.

Beverley Courtney
BA(Hons) CBATI CAP2 MAPDT(UK) ABTC Registered Animal Training Instructor, RDUK Authorised Trainer
and author of the popular Brilliant Family Dog book series

Course Curriculum
PLEASE CHECK THE NEW PROGRAM FOR THE UPDATED AND EXPANDED VERSION!
The Course is presented in over 60 brief, accessible, lectures. It's very easy to navigate.
Module 1 What is reactivity?
Before you can fix something, you need to understand it - what do we mean by "reactivity"?
Module 2 What caused it?
So - why my dog? What made him like this?
Module 3 What can I do?
Time to get started on the changes that will give you both a much easier life!
Module 4 Training
Masses of new ideas and training approaches here (all force-free, of course!) Lots of Lessons in this Module
Module 5 Choice Training
For those who want to go deeper, here's the science that underpins this approach, and lots more Lessons for you to work on
Module 6 Relaxation and Walk Management
How do I translate all this to being out in the world with my dog?
Module 7 First Big Technique
Desensitisation and Counterconditioning - often misunderstood - here's how to do it effectively
Module 8 Second Big Technique
Look at That! This technique alone will transform your relationship with your dog
Module 9 Third Big Technique
Behavior Adjustment Training (BAT) - starting at the very beginning and building up to your first BAT session. With Troubleshooting sections to ensure you get the best out of your new team.
Module 10 Developing your new skills!
Lots of BAT variants for every situation
Module 11 What, when?
How to fit all your new skills into your daily life with your dog for maximum results
Resources Section
Extensive info if you want to dig deeper
PLEASE CHECK THE NEW PROGRAM FOR THE UPDATED AND EXPANDED VERSION!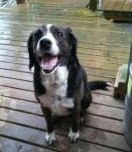 "Without Beverley Courtney, I don't know what I would have done. I had adopted a seven year old rescue dog who came with unexpected and unanticipated problems and issues which were beyond anything that I had previously encountered.
Walking her was a nightmare which I dreaded. Things were going from bad to worse.
I was feeling hopeless, overwhelmed, stressed and isolated. I felt like a failure because I did not know how to help my reactive dog ......and then, one fine day, I found Beverley Courtney.
Beverley responded immediately to my desperate email.
From her response, I knew that she absolutely understood my situation. Her encouragement and non-judgmental communications were reassuring.
For the first time since adopting Bella Jelly Bean, I felt hopeful. I was thrilled that I ….
READ MORE
had found a professional dog trainer that not only understood what I was going through but she also understood my dog's behaviors, and she knew how to help us.
I bought her books, and enrolled in her online workshops and courses. Beverley offers her students invaluable tools and skills that are amazingly effective, and immensely helpful. Her methods are kind, skilful,
.. and fun to learn for you AND your dog!

Beverley's understanding, support and encouragement are with her students every step of the way.
As a result, Bella Jelly Bean and I have come a long way. My dog may always have some challenges and issues, but the difference is that, thanks to Beverley, I now understand my dog and I now know what to do for her.
I am immensely grateful to Beverley Courtney and I highly recommend her!"
Elle and Bella Jelly Bean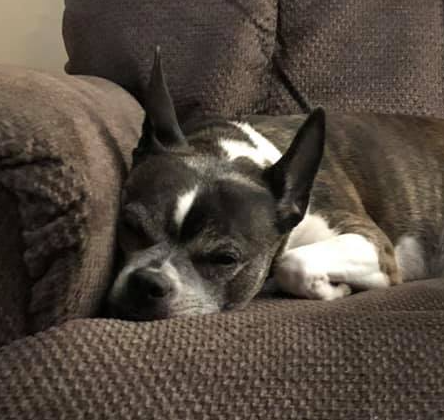 "From Growly Dog to Confident Dog has given me the tools I need to help Annie cope with the things that scare her.
No more yelling, saying "no" or "ahah" dozens of times per day or jerking on the lead.
Now we communicate and I give Annie choices, knowing she is fully capable and happy to make them. Her reactivity and fear are not "cured", but I am more confident and better equipped to help her cope and avoid the things that make her afraid."
Laura and Annie
And in case you have any concerns, you also have a 30-day money-back guarantee. Let me know within 30 days of your purchase that this course isn't for you, and you will get a full refund - no questions asked. There is absolutely no risk.
How safe does that make you feel?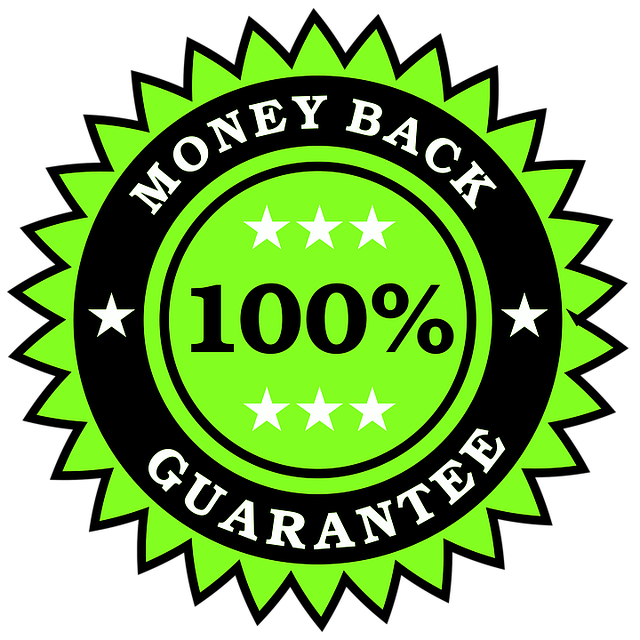 Frequently Asked Questions
What if I am unhappy with the course?
It's so important to me that you enjoy this course! So if you decide that it's not for you, just let me know in the first 30 days, and I'll give you a full refund - no questions asked.
Is the course useful for dogs who like other dogs but are afraid of people?
The essence of the course is to give your dog confidence and teach him not to be afraid. And yes! it works with any fears your dog may present to you - traffic, people, horses, dogs, car travel … you name it! There are special sections for these, with plentiful video illustrations.
What if my dog loves other dogs and pulls me over to get to them?
The same principles of teaching your dog to think, reflect, and assess will serve this end too. Dogs who are over-excited and frustrated will learn a lot through this course.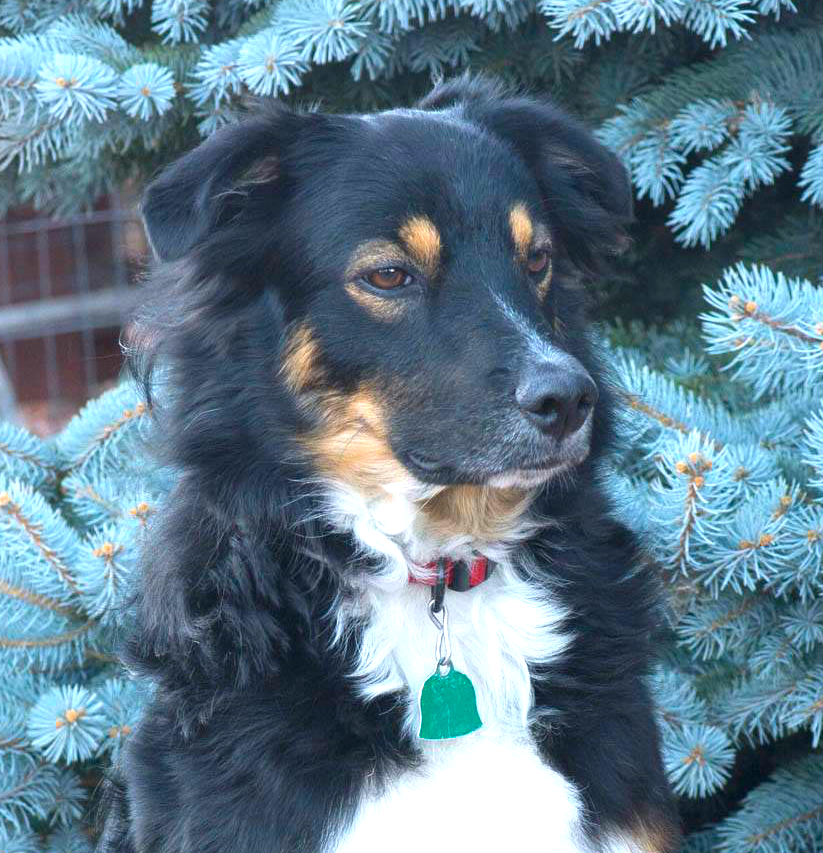 "The interaction in this course is invaluable: although you can view many internet videos and articles, and peruse many books - of the multitude of people sharing their how-to's - the personal interaction is a wonderful benefit of this course.
Beverley's passion, understanding and humor help guide us through the trials and tribulations of living with a Problem Child.
The course appears deceptively simple, but the table is set with ...
READ MORE
a full 11-course meal, offered in bite-sized pieces. Dessert comes in the form of a Bonus Resources Module full of goodies. I would caution people though, that this is not a quick fix, and takes time and much patience, but each small success is something to build on, and well worth the effort.

I have become increasingly aware of Winston's perceptions, responses and body language. This is an ever-growing, ongoing, process, it seems. I'd read different sources about body language and thought, yeah, I get that. But I really hadn't.
The tone and presentation of From Growly Dog to Confident Dog is great! Just a natural extension of Beverley's books, and now I can put the voice to the words! She lays out basics, and we can go from there, either acting on them as presented, or delving more into the blood and guts starting with the Resources Module."
Christine and Winston, mini Aussie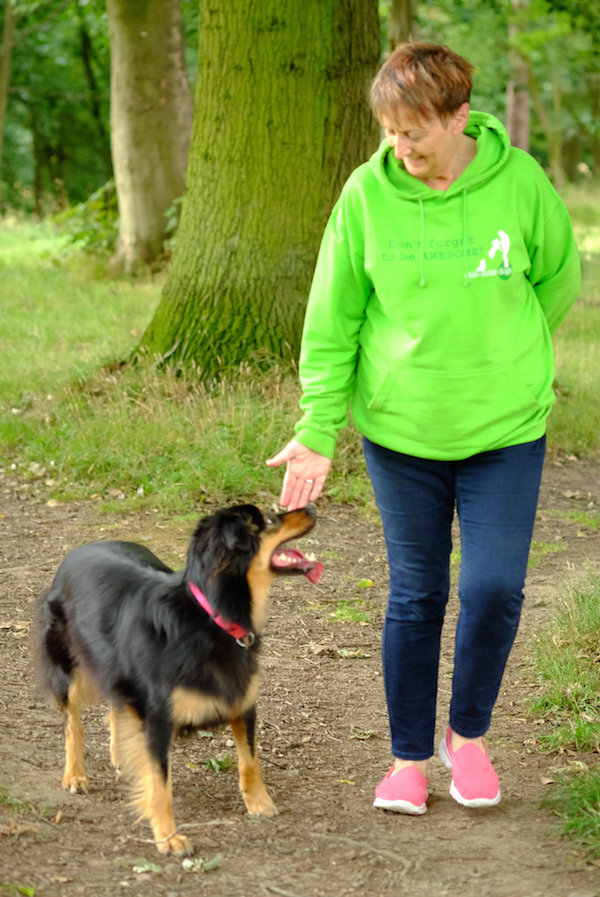 A word from your instructor
Everything changed when Lacy came into my life.
She'd bark and lunge, growl, chase, grab - so I know just what you've been going through with your dog! I really have experienced it first-hand, and I know just how stinging people's words can be when they walk their "perfect" dog past your growling, snarling, tornado of a dog.
I'd never had a reactive, growly, fearful, "aggressive", dog before. And I knew that I had to learn quickly how to help Lacy adjust to the world she now had to live in - and that's where my journey began.
I spent a couple of years researching, studying, reading, and experimenting - and devised a system (all force-free) that worked to change Lacy from a loose cannon to a reliable (and happy) companion.
So I can save you the time of all that research - and the expense! - by giving you here my system that has worked - not just for Lacy - but also for the many dogs whose owners have come to me for help.
If you've read any of the books in my Essential Skills for a Brilliant Family Dog series, and Essential Skills for your Growly but Brilliant Family Dog, you'll know that I break everything down into tiny, manageable steps, making sure that you understand each technique before developing the next.

This course will take you speedily from where you are now with your dog to where you want to be: having a companion you can trust and who trusts you.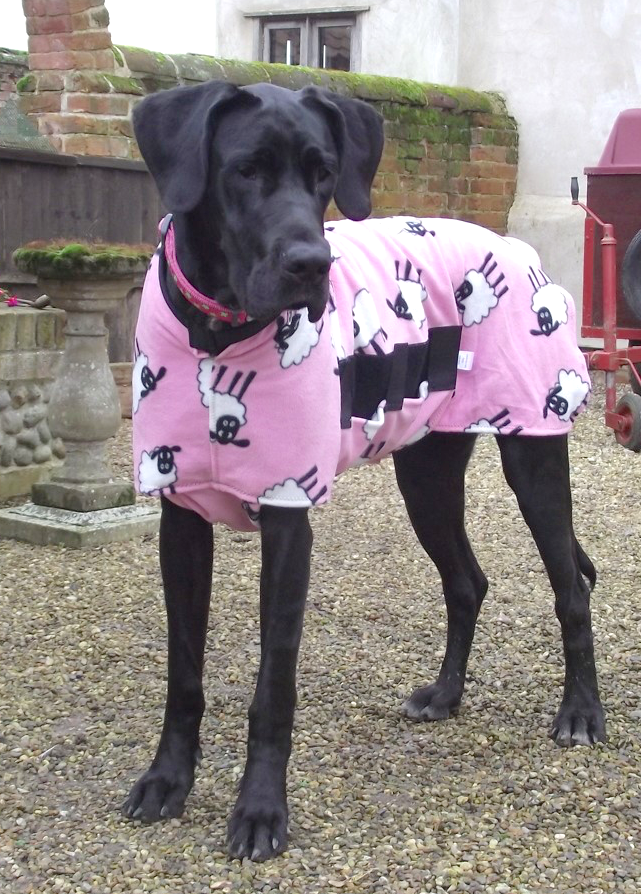 "The best result for me so far from this course is that I'm so much more relaxed when taking Elsie out, and I'm much more confident knowing that I'm doing the right things to help her to improve, relax and get out of 'danger' when we need to. We still have a way to go with Elsie's worry about dogs but I feel sure we're heading in the right direction now.
Thank you to Beverley for giving me my confidence back and helping me to see that I'm not the useless dog owner I was sure I must have become!
When I began the course Elsie was an extremely exuberant, highly-strung and determined girl who'd spook at things very easily ...
READ MORE
like no previous dog I'd owned. She'd become very nervous of dogs after a few bad experiences and if she got frightened she'd rear up and growl. She'd also pin dogs down given the chance and was generally too forceful.
I was very anxious when I took her out - I felt out of my depth. I was also very worried that by being nervous myself when out (however hard I tried to hide it) I might be making her worse, which only increased my anxiety.
I often felt I was a useless dog-owner and that it must be my fault she was the way she was and that I'd let her down - I was constantly asking myself where I went wrong.
The most worrying thing about walks was the thought of a dog coming towards us and Elsie becoming fixated on it and refusing to move and then reacting - trying to get a 55kg dog to move when they've dug their heels in and are rooted to the spot isn't (or rather wasn't) easy!
I had no concerns about enrolling on the course: Beverley had been so helpful and kind in the couple of emails I'd exchanged beforehand after subscribing to her free email course that I felt to have her advice and support would be invaluable.
There are lots of things I like - the helpful lessons, the games, the private Facebook group (including the camaraderie) ...
But the biggest thing that has made all the difference to our walks are the methods of getting out of danger. One of the other things that's made a big difference is Beverley's encouragement and support. The methods of teaching all make sense, which has given me a lot of confidence in training.
I'd recommend From Growly Dog to Confident Dog because it teaches you how to teach your dog, and there's lots of support to go with it.
I no longer beat myself up thinking that I must be the reason Elsie is the way she is - I've accepted that her exuberant and forceful personality combined with some unfortunate experiences have made her the way she is, and with Beverley's help I know I can do my best for my much-loved girl. It means so much to me just knowing Beverley's there in the background to help with any questions and problems that I might have now and in the future."
Clare and Elsie, Great Dane
This program has been completely updated and expanded!

It's now available at
https://brilliantfamilydog.mykajabi.com/from-growly-dog-to-confident-dog-1
with its own private Community and an App to take it everywhere with you
Hop over there and see just what you get!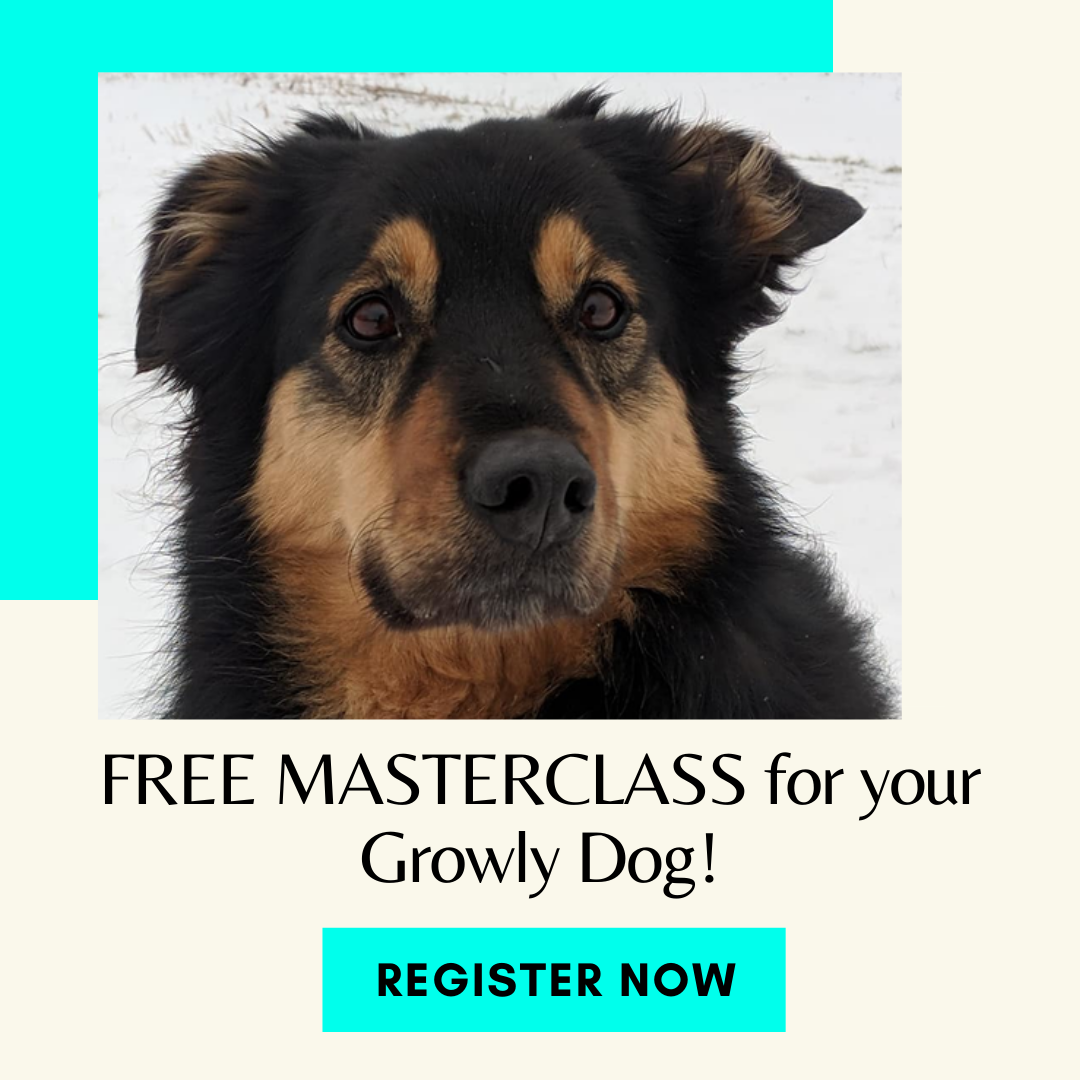 Meanwhile, watch
our free Masterclass
This course is closed for enrollment.